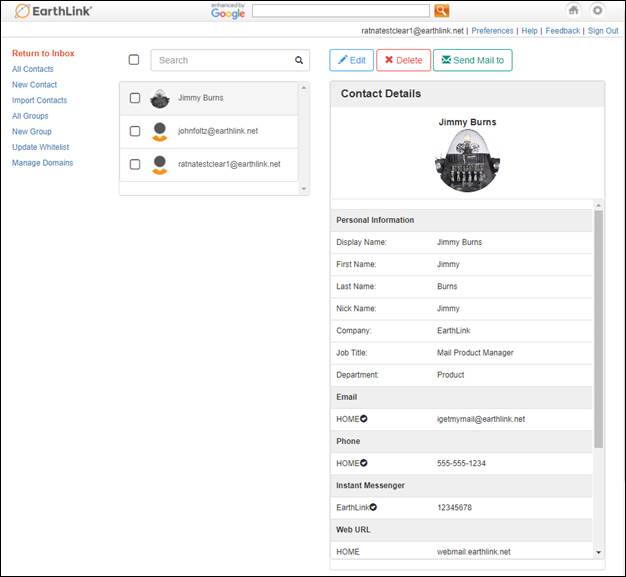 The Address Book allows you to easily see more information about each contact and is much easier to navigate than the previous version. To access your Address Book, simply login to EarthLink WebMail and click on the Address Book or Contacts button.



The Menu Features are as follows:

All Contacts

– Shows you all contacts in your Address Book. You can scroll up and down the page to view all your entries




New Contact

– Allows you to create a new contact in your Address Book




Import Contacts

– Allows you import contacts using a Comma Separate values (CSV) file




All Groups

– Shows you all of your existing groups and allows you to Edit, Delete or Send a mail to groups easily.




New Group

– Allows you to easily create and add members to a new mailing group



Update Whitelist – Clicking this option refreshes your Address Book and makes sure everyone listed is included in your spamBlocker Whitelist group. Note: This will just appear to refresh the page, but it is updating your Whitelist.


Manage Domain

s – Takes you do the Address Book Domain page



Address List
The Address List is displayed in the middle column. You can scroll up and down the window to see all of your contacts. Additionally, you can easily search your contacts using the new Search field.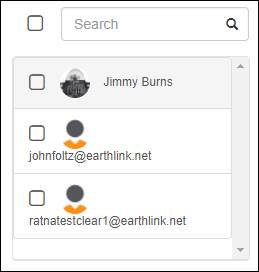 When you click an address book entry, the Contact Details will display on the right. We've included new fields and even a picture feature in this new version. To Edit, Delete or Send Mail to a contact, just click the appropriate option over that Contact's Details.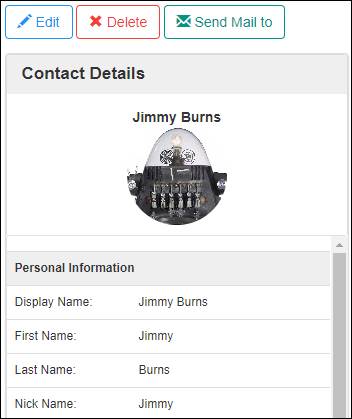 Using Groups
Groups (aka Mailing Lists) are easier than ever to manage. Simply click the All Groups option in the left side menu to display your existing Groups. Or you can click the New Group option if you would like to create a new list. You can Edit an existing list by clicking the Edit button over that list or easily send a new mail to your group by clicking the Send Mail to button.


Adding new people to a group is as easy as clicking Edit and then checking the box next to that person's name in your Address list. Removing them is equally easy, just uncheck the box. When you are done, click Save to update the Group list.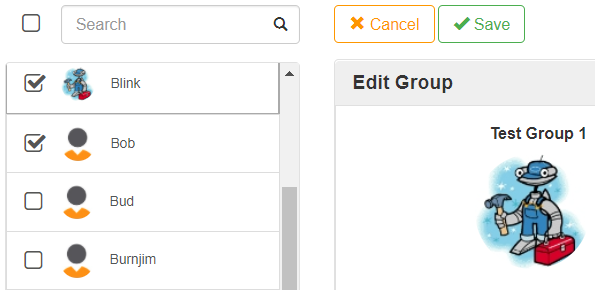 Update Whitelist
If you are using spamBlocker on High, you can refresh your Whitelist by simply clicking the Update Whitelist option.


Managing Domains
If you have a specific domain you want to make sure you get email from, you can add or remove domains to your Whitelist, by clicking the Manage Domains option.

Providing Feedback
We value your thoughts and input on our New Address Book layout. If you would like provide feedback, recommendations or let us know of a problem you found, please use the Feedback option at the bottom of this page.