Introduction
An SSL Certificate is used to protect your website and your customers. With an SSL certificate, you can ensure the security of sensitive data.
SSL Manager is an application that allows you to purchase, install and manage the SSL certificate associated with your website. You can manage multiple domains and associated SSL certificates using the application.
Understanding SSL Certificates
The most commonly used SSL Certificates are domain validated or DV certificates, included in all of EarthLink's SSL offerings. Domains protected by DV SSL Certificates validate the domain is controlled by the owner of the website.
Another commonly used SSL Certificate is "EV" which means Extended Validation. Certificates with EV in their naming convention provide the maximum amount of security to site visitors and the business. A fully validated EV certificate will show the company name to the left of the URL in the browser field with a green padlock next to it. This indicates extra steps were taken by the website owner to ensure privacy and security of the site visitors.
Getting Started
Log in to the EarthLink Hosting Control Center at: control.earthlink.net. Enter your Username and Password, then click Login.
Your Username is either your domain name or email address associated with your account. The Password is what you selected during signup.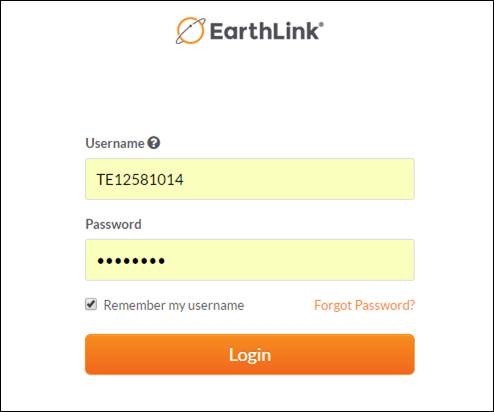 1. Select Advanced Tools.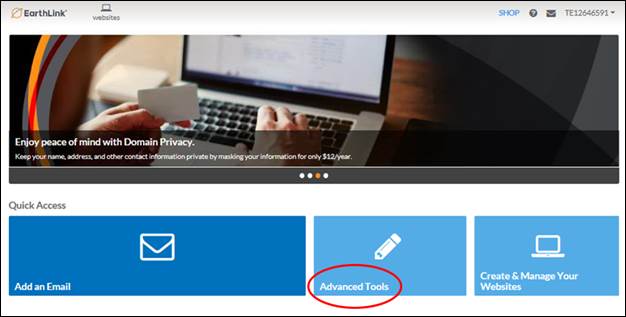 2. Select SSL Manager from the list of applications.

3. Once you've launched the SSL Manager application, you will see the SSL certificate that you purchased next to your domain name and will have the option to Install the certificate.

Note: It is important to enter the information correctly during your initial setup. In the event you provide the wrong domain information, you will have to purchase a new SSL certificate. The information you provide cannot be changed once it is confirmed.
SSL Manager Dashboard

Legend of the terms included in the SSL Manager Application:
Domains Secured

Here you will see the number of domains in your account that are secured and not secured.

Domain

List of hosted domains purchased for this account. Note: the list is not dependent on SSL products.

SSL Certificate

There are different types of SSL certificates, the type associated with your domain will appear here (i.e Comodo Positive, Comodo DV, Comodo EV and Vanity or 3rd Party).

Expiry Date

The expiry date helps you keep track of when you will need to renew your SSL certificate. By default this value will be blank.

Auto-Renew

It is automatically set to ON without the option of turning it off to ensure your existing certificate is renewed each term without any interruptions to your website's security.

SSL Status

The status of the certificate will be reflected here. SSL Status(es) includes: Blank, "Unconfigured"; 'Awaiting detailed configuration'; 'Awaiting certificate upload'; 'Installation is in progress'; 'Installed, DNS update required', 'Installed, DNS update completed'.

Settings

The settings icon will provide domain details specifying whether or not domain(s) are secure/not secured.
Note: use the arrows next to the headings of the columns to sort by Domain, SSL Certificate, Expiry Date and status.
Domain Details
To check this:
Select the blue Settings icon
Next, select View Domain Details
You will be notified of whether or not your domain is secured or not secure. You will also be provided details of your SSL status, type and secure URL.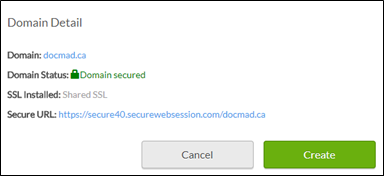 Note: It is important to enter the information correctly during your initial setup. In the event you provide the wrong domain information, you will have to purchase a new SSL certificate. The information you provide cannot be changed once it is confirmed.

Search Function
At the top-left of the main dashboard, you will see a search bar. If you have installed or are installing multiple certificates under different domains, you can easily search for the domain here.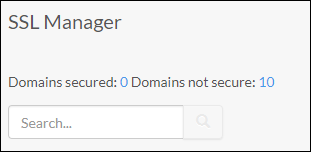 Simply type the domain in the search to check on SSL status.

Comodo SSL Overview and FAQ
Top-line Benefits
Protect your customers. When customers submit their personal information on your website, make sure you protect it. SSL encrypts information submitted on your website.
Safely accept credit cards and customer info. In order to meet Payment Card Industry (PCI) compliance, websites need an SSL certificate of at least 128-bit encryption from a trusted source. Most customers will look for the https:// before visiting a website, this is even more important when they are submitting their credit card information or personal data, like providing their email in a form.
Don't get penalized by Google. Google marks sites without HTTPS as non-secure, and may penalize non-HTTPS negatively in their search ranking algorithm. Simply put, if your website is not secure, it will affect your online visibility.
Increase customer confidence. Improve your brand power, giving customers confidence in your website and business.
SSL Product Summaries
Comodo Positive SSL is a basic SSL certificate providing minimum coverage. Your website will display a static SiteSeal and a basic warranty of $10,000 will protect your business.
Improve visitor trust with Comodo DV SSL, providing SSL encryption with a dynamic site seal with your company name and validation timestamp. Your business will be protected with a $250,000 warranty.
For websites selling online and collecting customer data, increase your online conversions with Comodo EV SSL certificate. EV SSL displays a visible secure sign: the green browser address bar. Exclusive to EV SSL certificates, the green bar assures your site visitors that their sensitive data is transmitted by a highly secured, trustworthy domain. EV SSL provides full business validation and has a warranty of $1.75M.
Features
Features Overview
SSL Encryption

Protect your business and you customers with up to 256-bit SSL encryption. "Point-to-verify" technology shows real time verification of your business credentials and warranty whenever a visitor hovers the mouse cursor over the seal.

Site Seal

Show your customers that your website is secure and employs SSL.

Warranty

Protect yourself in a loss of money due to a fraudulent charge made by a SSL certificate holder.

Pages Secured

Your web pages secure user information from being intercepted by attackers.

99.9% Browser Capability

Browsers are now warning visitors that a website is "unsecure". Visitors will be discouraged to proceed to your site.
Our SSL Certificates are recognized by 99.9% of all browsers and devices.

Mobile device compatibility

SSL certificates are compatible with mobile devices for security on the go.

Authentication

Trusted SSL certificates are issued by Certificate Authorities after the applicant (website owner) passes their verification procedures. There are three levels of validation:


Domain validation: the Certificate Authority verifies only domain control rights for a particular domain name
Extended validation: this SSL certificate includes Organization Validation (OV) which should prove that the organization is real, with verified phone number and additional paperwork verified. SSL certificates of this type contain the company name and address by default.

An EV certificate can be applied for by a legal employee (VP, Officer, CEO, CIO) who has the authority to sign a subscriber agreement and a certificate request. EV certificates provide a green bar with the company name and the highest user trust level.

Plans, Pricing and Features
| | | | |
| --- | --- | --- | --- |
| Features | | | |
| | | | |
| | Up to 256-bit SSL Encryption | Up to 256-bit SSL Encryption | Up to 256-bit SSL Encryption |
| | | | |
| Dynamic Site Seal (displays company name, date/time stamp) | | | |
| | | | |
| 99% browser Compatibility | | | |
| Full Organization Validation | | | |
| | | | |
| | | | |
| Equifax Secure Certificate Authority | | | |
Here's an example of what the browser looks like with different SSL certificates installed on the domain.

| | |
| --- | --- |
| | |
| | |