How to Find a local Access Number for Dialup
Log into MyAccount

Select "Internet Access Number" in the lower left to get a new access number.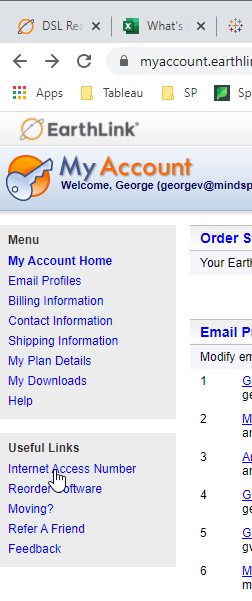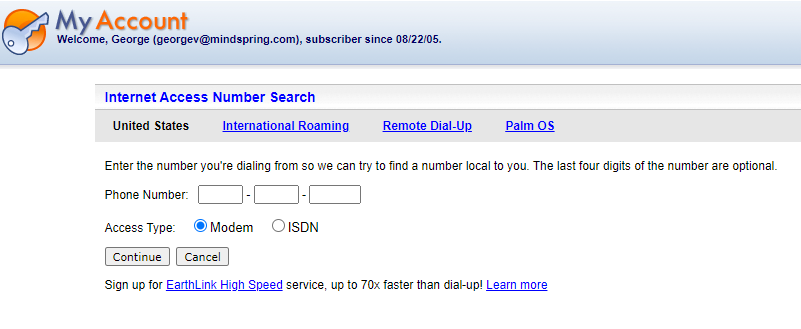 Related Articles

Dialup setup for Windows 10

Windows 10 computers no longer have built-in dialup modems. You may need to have one installed by a computer technician, or a USB plugin dialup modem may be available for purchase at your local computer store. In the bottom right-hand corner of the ...

Mac OS X 10-5 Setup and Configure a Dialup Connection

Summary This article illustrates how to set up and configure an EarthLink Dial-Up connection in the Network Panel in Mac OS X 10.5. 1 Click the Apple Menu and choose System Preferences. 2 In the Internet and Network section, choose double-click ...

Connect your Mac to the internet using a dialup modem

MacOS Big Sur 11.0, macOS Catalina 10.15, macOS, macOS Mojave 10.14 You can set up a dial-up modem using Network preferences. On your Mac, choose Apple menu > System Preferences, then click Network. Select your modem. If your modem isn't in the ...

Find Out if Your Computer Has Anti-Virus Software Installed

By installing anti-virus software, you can prevent your computer from getting viruses and other malware. Do you already have it installed? Check to see if you have anti-virus software installed on your Windows computer The best way to tell if you ...

How to Read Your Dialup Invoice

For information about the items that have appeared on your invoice, hover over the blue text with your mouse. For example, if you are uncertain about what the "QTY" column is used for, place your mouse over the word "QTY" displayed below and a menu ...